Monthly Meetings
All meetings are held on the following Tuesdays from 7:00 – 8:00 pm ET and will be held on Zoom.
January 10, 2023

February 14, 2023

March 14, 2023

April 11, 2023

May 9, 2023

June 13, 2023
---
Continuing the Journey PLC 2023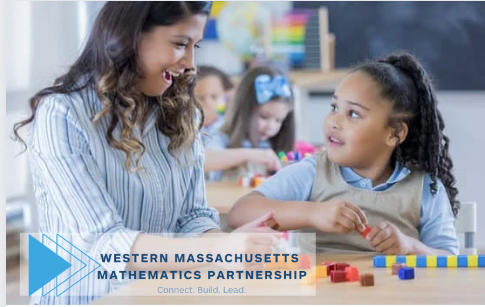 Join Western Massachusetts Mathematics Partnership (WMMP) for our FREE "Continuing the Journey: a K-16 Professional Learning Community" and dive deep into NCTM's Effective Mathematics Teaching Practices. 
Engage, discuss and reflect on math with other teachers and education leaders. Come away with new ways to engage students in math tasks and gain a stronger sense of how the teaching practices bring to life NCTM's Guiding Principles in your classroom.

Facilitated by Michael Merritt and Lori Steele from Holyoke Public Schools.
Sessions will be held on the following dates/times via Zoom:
     Thur. 4/27 6:30 – 8:00pm ET: Pose Purposeful Questions
      Thur. 5/18 6:30 – 8:00pm ET: Use and Connect Meaningful Representations
      Thur. 6/22 6:30 – 8:00pm ET: Facilitate Meaningful Mathematical Discourse
      A fourth fall session time/topic will be determined after the June session
These PLC's are intended for all educators who teach K – 16 mathematics. Pre-work for the PLC series includes reading specific parts of Continuing the Journey_ Mathematics Learning 2021 and Beyond.pdf and familiarizing oneself with the list of 8-Effective Mathematics Teaching Practices.
Register: https://gradadmission.mtholyoke.edu/register/ContinuingJourneyPLC